July 14, 2020
The Role of Artificial Intelligence in Transforming Loan Origination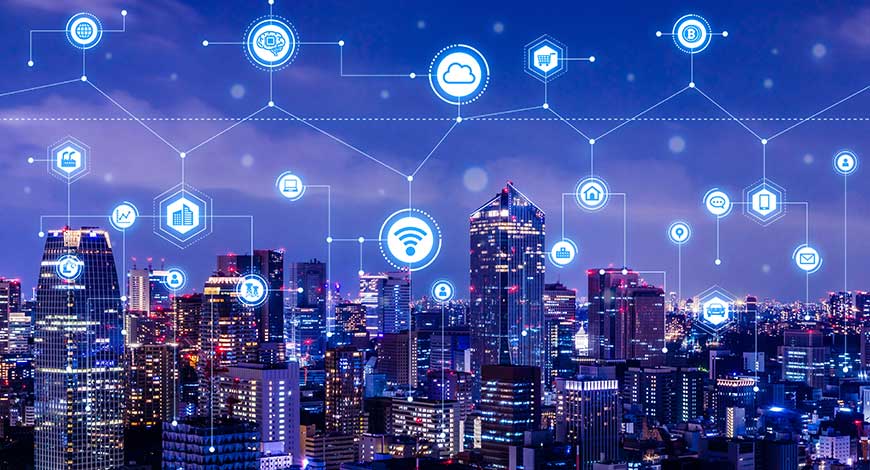 Data is at the forefront of the lending industry. Continued technological advancements have enabled companies to tap into this resource by applying AI, machine learning, and automation to make loan origination easier, faster, smarter, and more cost-effective.
The personal lending space has already seen a tremendous amount of innovation, with AI used to aggregate information to speed up the time it takes to go from application to approval, even for people without any credit information. The technology spots correlations in a person's data and calculates the likelihood of their ability to repay a loan.
Singapore-based software-as-a-service (SaaS) company Lenddo assesses risk through the applicant's digital footprint, translating non-traditional data from social media activity, geolocation, and other smartphone data, among others, to ascertain their creditworthiness.
U.S.-based AI lending platform Upstart has originated $6.7 billion in loans as of March 2020, with 70% fully automated. The company notes that "four in five Americans have never defaulted on a credit product, yet less than half have access to prime credit. With a smarter credit model, lenders could approve almost twice as many borrowers, with fewer defaults." Upstart's algorithms look at over 1,500 variables in the process of assessing an applicant.
Looking into alternative sources of data helps improve credit assessment as it provides a more holistic view. "When lenders consider alternative data as a basis for decision making, they can improve risk assessment while boosting revenue growth, tapping into a vast market of new applicants who have traditionally been unscorable," said Forbes in an August 2019 article.
Amazon.com uses proprietary data from outside the banking sector and does not require a credit check. The e-commerce giant utilizes a machine learning model to sift through its enormous database to identify potential borrowers to join its lending program based on data points such as the seller's account tenure or level of customer satisfaction provided. Only those deemed eligible receive an invitation to apply. 
Since its inception, the program has issued billions of loans to small- and medium-sized enterprises. In 2018, Amazon partnered with Bank of America in a bid to expand the program.
More recently, CNBC reported a tie-up between Amazon and Goldman Sachs, which will provide merchants in Amazon's marketplace access to credit lines of up to $1 million from Goldman's Marcus brand. The partnership will give the bank conditional access to Amazon's data on its sellers, which will help Goldman improve its learning models and fast-track its initiative to expand into Main Street finance, CNBC said, citing sources.
Lending in Real Estate
The real estate industry has been relatively slow to change. Still, technology has certainly made inroads, and it is more than evident that it will reshape the way things are being done, especially when it relates to financial services focused on the sector.
In the residential lending space, lenders such as Quicken Loans and SaaS companies such as Roostify are leveraging technology to expedite the home-buying process.
Quicken Loans' Rocket Mortgage platform asks users to answer some personal questions and then digitally integrates with the applicant's bank to pull data and eliminate paperwork. Rocket Mortgage currently does not look at alternative credit data but focuses on credit scores and debt-to-income ratios when assessing applicants. Quicken Loans claims that qualified applicants will be able to get full approval for a mortgage or refinancing online for as little as eight minutes.
But what about commercial real estate loans which tend to be significantly costlier than home mortgages?
The use of AI answers some of the challenges faced by the commercial mortgage industry. AI expedites the process of loan origination by eliminating roadblocks and bottlenecks in the pipeline to loan completion. It provides swift yet comprehensive property financial and operating performance analysis, market data aggregation and analysis; property valuation; and loan terms determination, thereby eliminating monotonous work and allowing analysts to focus on analysis. Technology saves the banks and lenders time and resources, delivers better risk underwriting, and allows for better customer experience and greater satisfaction. The integration of intelligent systems into the commercial mortgage processes boosts accuracy and speed and improves transparency and cost-effectiveness.
Below are some of the ways technology is transforming loan origination.
Automated analysis of property financial documents – rent rolls, operating statements, budgets and projections
Analysis of property financial documents is essential in CRE lending. Due to its data-heavy nature, loan origination in the sector is a laborious task. At the initial stage, it involves analysts sifting through a multitude of documents such as rent rolls and operating statements. These documents can span 30 to over a hundred pages in length, depending on the property type and size. They also come in various forms, such as images or pdfs, which would typically take an analyst several hours or even days to extract, standardize, and encode.
AI-backed automation helps cut out the mundanity of such tasks using different algorithms and natural language processing. Software extracts data from property documents, including scanned files, pdf files, or excels. It then reads the extracted data, categorizes it, and standardizes it without the need for human input. The documents come in different shapes and forms, as there is no standardization in the industry, which is one of the most significant issues.
After the data is standardized, the software analyzes it and highlights areas of potential inconsistencies or where an analyst's attention is required. The processing time is cut to mere minutes instead of days, and the risk of human error is significantly reduced.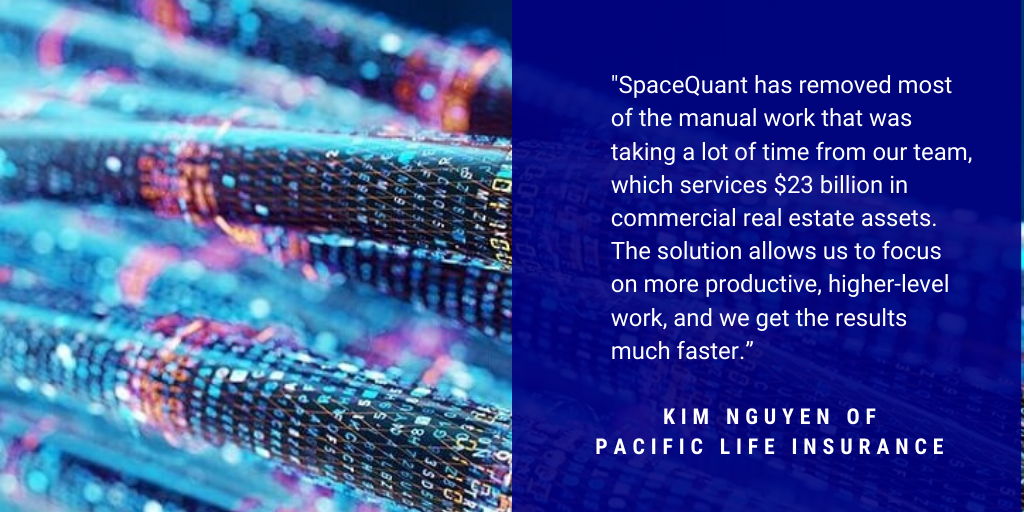 "SpaceQuant has removed most of the manual work that was taking a lot of time from our team," said Kim Nguyen of Pacific Life Insurance, which services $23 billion in commercial real estate assets.  "The solution allows us to focus on more productive, higher-level work, and we get the results much faster."
AI-powered automation and decision platforms in the CRE lending space value and monitor the performance of properties, allowing for faster and easier assessment, thanks to the insight provided by technology. Since routine tasks such as data entry and basic analysis are delegated to machines, analysts can focus on what they do best.
Aggregation of external data
In addition to analyzing existing property data, automation helps with aggregating various external data necessary for property analysis – such as location data and real estate market statistics. In the case of our software, SpaceQuant not only provides real-time financial analysis, our big data platform also contains metrics on 120+ million buildings and locations, bringing all essential information in one place. We go beyond traditional data sources and aggregate multiple alternative data streams to provide a digitalized insight of a local broker. Such streams include the popularity of the location, amenities in the area, foot traffic, different demographic parameters, business statistics, quality of public transit, proximity to major highways, and many more.
Analysts no longer need to spend hours of work perusing various databases for information – all of it is automatically presented in a visual, intuitive interactive interface. This feature enables analysts to quickly grasp the pros and cons of the property location and the local market – and put the analyzed property in context – for comprehensive analysis at a fraction of the time required previously.
Predictive analytics and risk assessment
SpaceQuant's platform applies predictive modelling to evaluate the risk of property value decline using a 25-year history of performance of similar properties, among other things.
What SpaceQuant does, at a granular level, is take into account a lot of different factors and create a score for a particular property. How likely is the property to decline in value during financial instability? The software looks into location specifics, property characteristics, and can extrapolate based on the performance of other properties in similar locations.
Financial modeling in the cloud
The cloud enables easy access to data, from anywhere, at any time, using any device – so long as it connects to the internet. It serves as a data repository that can support the integration of multiple technologies to build virtually infinite amounts of use cases. The power, flexibility, and scalability of cloud computing allow it to underpin a vast number of functionalities.
Such benefits of a cloud-based solution include instant benchmarking of the property revenues and expenses, comparing property performance to other similar properties in the market. The software highlights any line items on the property financials that are not in line with the market, making it easier for the analyst to spot potential areas of concern.
Furthermore, financial models are interconnected with a variety of data feeds. Model assumptions, such as rents and vacancies, and others, can be automatically fed from the forecast database maintained by the financial institution's economic desk, for example. Such a feature can help create more accurate analysis, which will update if the economic or real estate market outlook changes.
Automation with a human in the loop
SpaceQuant's platform automates many steps in loan origination, but it does not do away with the human touch. The platform allows analysts to review every step, make any adjustments, and incorporate assumptions during the assessment process. This feature is particularly important in commercial real estate – as every property is unique, and the software enables the analyst to incorporate any required adjustments. Also, uploaded documents can come in any format, so the analyst can review the process and make changes if the software didn't recognize any data point. The software's intuitive interface was created so that the analyst can easily manipulate the data, with the full flexibility of excel, but capturing all the benefits of cloud-based solutions.
To summarize, AI in commercial mortgages helps at various steps of the process: from analysis of property financial and operating performance, to prediction of property future performance, risk assessment, and valuation. However, retaining the ability of the analyst to review every step and quickly make adjustments is crucial. As a result, the lender can get dramatically better deal screening and property underwriting, at a fraction of the time and cost compared to current manual processes.
Conclusion
The use of technology and AI in the financial services space is essential. In a recent survey of 200 senior executives from the U.S. mortgage industry, Forbes Insights warns that leaders either "adapt to this transformation today or risk disruption."
Quicken Loans is an example of a non-traditional lender that has benefited tremendously by levering technology to boost business outcomes. In 2015, the lender launched Rocket Mortgage, an "online mortgage experience." Quicken Loans' willingness to embrace innovation and put it to use enabled the lender to overtake Wells Fargo to become the country's largest mortgage lender since 2018.
AI and its related technologies, such as machine learning and automation, are upending traditional lending processes and turning the industry on its head with their unlimited potential for value creation.

SpaceQuant
AI and its related technologies, such as machine learning and automation, are upending traditional lending processes and turning the industry on its head with their unlimited potential for value creation. The benefits of applying these technologies in loan origination include speed, risk management, and cost reduction, and ultimately, greater customer satisfaction.  
Speed – Lenders can increase origination by cutting down closing times. There are many lenders in the marketplace, both traditional and non-traditional, and the ones who can fast-track transactions effectively win over more clients and close more deals. 
Risk Management – Access to critical information in real-time allows analysts to make informed decisions. AI can process data at a fraction of the time it takes a human being and can uncover potential red flags such as anomalies in financial statements or property performance issues well in advance. It can also pull data from traditional and alternative sources, to give a more holistic view of the properties and loan applicants. Analysts can make high-value decisions armed with accurate and up-to-date information.
Cost Reduction – Routine and mundane tasks that require many hours to complete are now processed within minutes thanks to AI and automation. This eliminates the fatigue factor and the need for oversight, saving time, and allowing lenders to keep their workforce lean. Analysts can focus on high-value work while machines do the heavy lifting. The likelihood of errors, which can not only cost the company time and effort to correct but also profit in terms of missed opportunities and damage to reputation, is lessened considerably.
Technology is reshaping the way business is being conducted – this is true for all industries. Though certain hurdles such as inertia and perceived difficulty in integration may slow the process, one thing is clear – change is inevitable.